Since late October, a few dozen pieces about Kacper Nadolskie have featured in the media. Not only in regional, national, or automotive. Texts about the Polish karting driver also featured on Slippedisc – an international portal for … classical music, and a South-Korean daily "Hankook Ilbo".
What attracted most of the media attention was the friendly karting challenge between Kacper Nadolski and Bruce Liu, the winner of this year's Chopin competition. The lead up to the meeting and reports about the joint ride were on the news in many local and regional media outlets. Materials about the event were published by Radio Poznań, Gazeta Wyborcza Poznań, online WTK.pl, epoznan.pl, codziennypoznan.pl and Wielkopolska24.info.
The event was also reported on by karting-related media (Polski Karting, Karting.pl), and automotive outlets (for example Overdrive, Motocaina), by media for women (Madams) and serious nationwide news channels (Onet, Niezależna). A text about the meeting between Kacper Nadolski and Bruc Liu was also published in the hard-copy edition of Gazeta Wyborcza.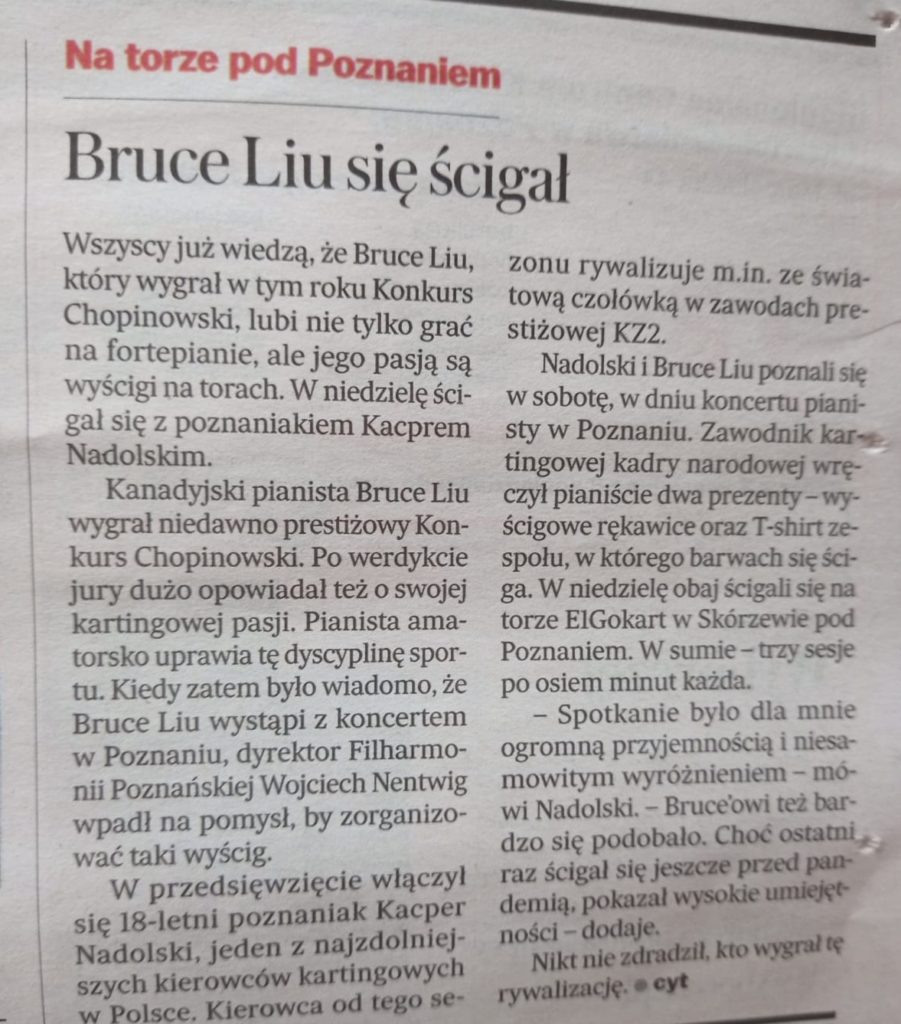 The karting duel between the virtuoso pianist and the driving wheel champion did not escape the attentions of media beyond Poland. The event was covered for example by international classical music portal Slippedisc and Canadian mySCENA. What's more, the unusual duel also featured in a reputed South-Korean daily Hankook Ilbo!

Kacper Nadolski also visited for interviews the Chillizet radio station (show by Dagmara Kowalska "Bryki Dagmary") and the Emaus radio (show by Anna Jasińska entitled "KulturAnna"), where he was talking about his karting career and the biggest dream, that is competing in Formula 1.
That's not all! The Polish athlete also featured in two video spots by TVP Poznań, covering his ambassadorship to Special Olympics Poland, broadcast by the sports news section and in the breakfast show "Witaj Wielkopolsko!".